Omaha's "whole house" system specialists near you.
Burton offers full-service plumbing, heating, air conditioning, and electrical services to keep homes—and homeowners—comfortable.
The service call you actually look forward to making.
• Upfront pricing
• Two-year guarantee on parts and labor
• The best customer service in town (seriously, read our 4,000+ reviews!)
Proudly serving homeowners in the Omaha metropolitan area.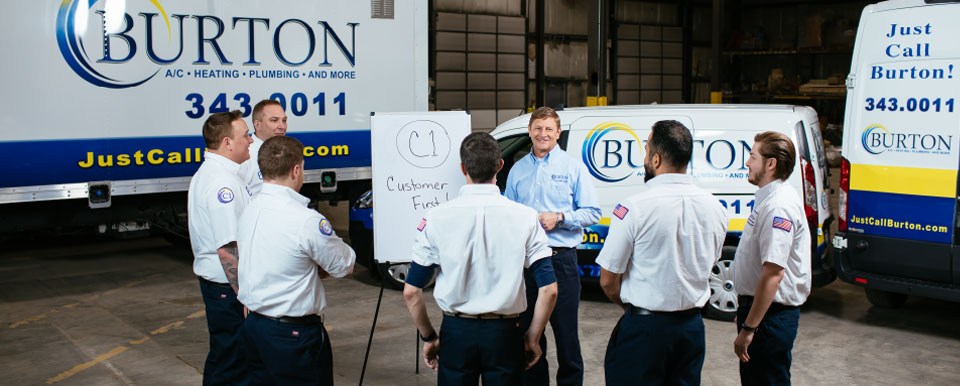 Burton, in the beginning.
In 1992, Mark Evans met Burton Friesz, owner of Burton Plumbing which he had started in 1989. At the time Mark was a manufacturer rep selling plumbing supplies.
One night, after a week of travel, Mark came home and was taken aback by how much his baby daughter had grown and changed. At that moment, Mark decided he would be making a change. During his travels he had become very interested in the correct way to run a plumbing business. After discussing ideas with Burton Friesz, they decided to team up. In 1995 they took out a full-page plumbing ad and started in 1996 when the ad was published. They then got to work building the family- and community-centered business that Burton is today.
At that time, customers were billed for time and materials. And customers would always ask "So how long will it take and how much are the parts?". Mark thought what they were really asking for was the price up-front! Mark felt flat-rate pricing would simplify the process and improve the client experience and there would be no surprises after the work was done. Burton learned quickly that clients appreciated knowing how much things were going to cost before the work started. This is how Burton became the first flat-rate plumbing business with up-front pricing in Omaha.
The quicker Burton grew across Omaha, the more qualified technicians Mark needed to bring onboard. With every single hiring decision, Mark chose service-oriented techs and staff who embodied Burton's client-first values. As Burton continues to grow, that client service focus remains. Mark truly believes that their above-and-beyond employees are the backbone of Burton's success.
Burton now employs over 120 of the best service and support professionals in the industry.
Mark and the Burton team are known for putting the client first, completing their work quickly and neatly, and making the best of even the most challenging repair situations. For this they have been voted Best of Omaha 17 years in a row!
| | |
| --- | --- |
| | Burton Plumbing was started by Burton Friesz. |
| | While working as a plumbers manufacturer rep, Mark Evans meets Burton Friesz. |
| | Burton focuses on being the best home services company in the Omaha metro. |
| | Burton begins doing heating and air conditioning. |
| | Burton is sold the company to Blue Dot, a national utility consolidator. |
| | Wanting to take the company in a different direction, Mark purchased the company back and expanded it to what Burton is today. |
"At Burton, our goal is to always leave a project, a customer, and a home better than we found them. We pride ourselves on professionalism, knowledge, and continuous improvement — and it shows."
– Mark Evans, President
Our Core Values
We are skilled.
At Burton, we challenge our employees to always sharpen the saw. We actively seek opportunities to learn, teach, and grow.
We are engaged.
We consistently take focused and intentional action. We go beyond "never be satisfied" — we are constructively dissatisfied — staying curiously skeptical without being cynical. We seek facts and act accordingly with a deep passion for our brand, our industry, and our reputation.
We are willing to serve.
We view all relationships as partnerships—we are either serving the client or serving someone who is serving the client, and that customer is always first.
We do the right thing. Always.
Treat everyone with respect, integrity, and honesty. We understand the foundations of excellent customer service and we practice them daily. We believe in win-win-win, and fully appreciate the value of a solid first impression and a long-term reputation.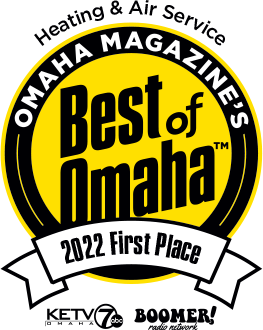 Best of Omaha for 17 years running.
To us, being awarded this community accolade year after year shows that our customers value these pillars as much as we do!
"Homeowners have lots of choices when it comes to the health and maintenance of their home's critical systems. We've made a point to always choose the customer first, and we've been honored that Omaha homeowners have repeatedly done the same for us."
– Mark Evans, President
We love Omaha.
At Burton, we have a heart for this community. Without it, we wouldn't have the great customers we value so much. We live here, too—and we are blessed to have the ability and means to serve our local community where it's needed most.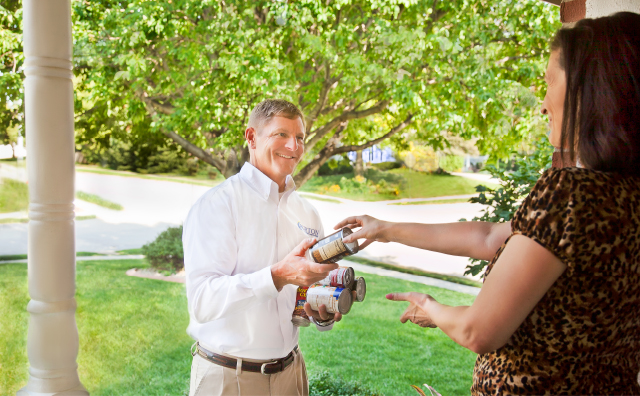 Food Bank for the Heartland
Every fall, we help stock the pantry at Food Bank for the Heartland, a critical organization that serves families across Nebraska and western Iowa. We organize and raise donations with our customers so we can all pitch into this important effort.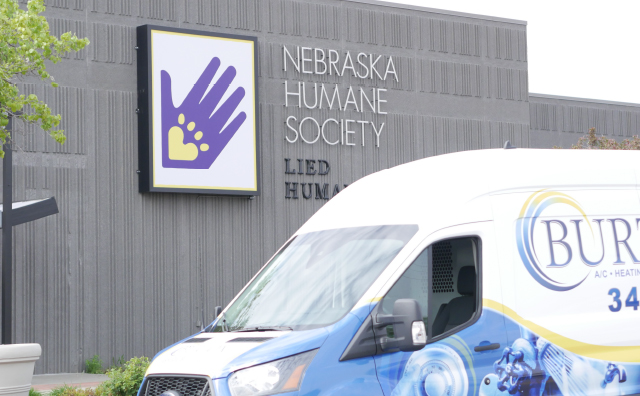 Nebraska Humane Society
We have a lot of animal lovers at Burton, so this cause is near and dear to all of us. Our goal is to make everyone more comfortable in their homes—and this includes supporting the efforts and donating pet food to help pets find a good place to live.