As cold weather approaches and we spend more time indoors, it's always a good idea to ensure that a home's electrical system is working efficiently and safely.
Burton is an Omaha electrician that offers a complete range of services, and we'd be happy to assist you with making electrical improvements to your home. Here are ten ideas well worth considering: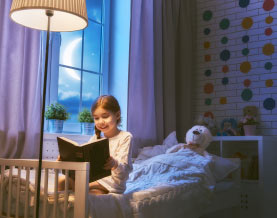 Check outlets for loose plugs, which can overheat and cause a fire.
Test GFCI (ground fault circuit interrupter) outlets to ensure they reset properly after you've pressed the test button.
If you have young children, install safety covers over unused outlets.
If you are frequently resetting circuit breakers, we can inspect the circuit and recommend the right solution.
Make sure electrical cords are in good condition. Never use tape to fix a damaged electrical cord; instead, you need to replace it.
Don't overuse extension cords as they were never meant to be a permanent solution. If you have one or more in continuous use, now's the perfect time to have more outlets installed.
When it comes to extension cords, you also don't want to place them under rugs or anywhere else they can be walked on. That will only hasten their deterioration and can lead to an electrical fire.
Test smoke detectors and CO detectors and replace batteries as needed.
Check the wattage of light bulbs to ensure they are correct for the size of the fixture. Failure to do so also can result in a circuit overload or even cause wires to overheat.
If your home needs electrical improvements, contact Burton today to schedule a service call. Once our electrician arrives and assesses what needs to be done, he'll present a guaranteed upfront price quote for your approval before he gets to work. Plus, we guarantee your 100% satisfaction with our service.