Does the photo in this blog look familiar? As in, do you have masses of unsightly wires and extension cords all dedicated to charging cell phones and other electronic devices, and sometimes all at once?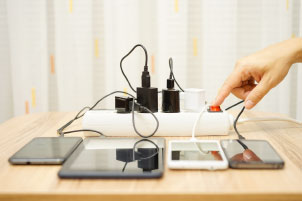 Then you are definitely a candidate for one of the great modern-day electrical conveniences: one or more USB wall outlets. The typical outlet consists of two electrical sockets and two USB charging ports. So, if you were to replace a conventional two-socket outlet for a comparable USB wall outlet, you'd be giving nothing up and gaining the added convenience of two direct charging stations. You simply plug the device and its USB plug directly into the outlet – no power cord needed.
Even better, a high-quality USB wall outlet automatically senses and provides the exact amount of power each device needs, so there's never a risk of under- or over-charging it.
So, if you like the idea of ridding your house of electrical clutter and creating a neat and orderly process for charging all electronic devices while keeping everyone happy, contact Burton today for more information or to schedule service. Adding convenience to your daily routines is one of the things we do best.