Your home is a place of comfort and safety, but the safety aspect can be improved by avoiding some very basic yet common electrical mistakes in your Omaha home.
Avoid using extension cords

Doesn't it seem that there never seems to be enough power outlets in your home for all of the appliances and gadgets that use electricity?  To compensate, many home owners use extension cords.  The better alternative is to purchase UL listed plug strips with 2 to 3 foot cords that you can plug in to the wall outlet and gain several more power openings without the use of extension cords.  An even better solution is to add more outlets.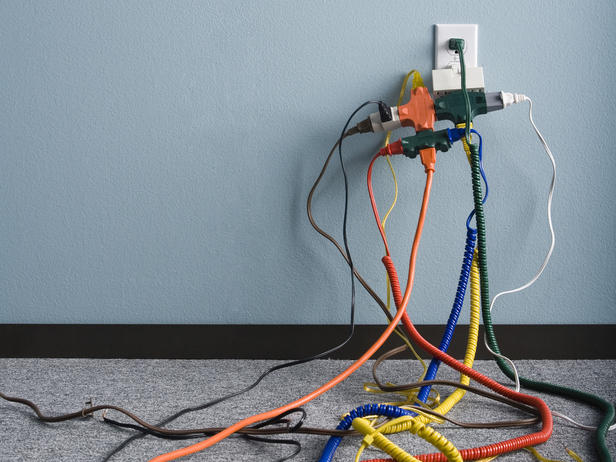 Install the proper wattage bulbs in your fixtures

Most ceiling mounted light fixtures are rated for 60 watt bulbs, or less, because of the amount of heat they produce.  If you're using bulbs with higher-than-recommended wattage, your light fixture cannot adequately dissipate the extra heat the stronger bulb produces.  That, in turn, chan cause the sheetrock in your ceiling to bake along with house wires in the electrical box.  Just to be on the safe side, write down the proper bulb size for each light fixture or lamp in your home and keep that list in a safe place.  That way, when it comes time to replace a burned out bulb, you have a ready source of reference.
GFCI protected receptacles

Ground fault circuit interrupters (GFCIs) are outlets that are designed for use around water or outdoors.  The GFCI measures the amount of incoming and outgoing current and will trip if it's not the same.   By installing GFCIs in every home in the United States, the U.S. Consumer Product Safety Commission estimates that more than two-thirds of the approximately 300 electrocutions occurring each year could be prevented.
Properly sized fuses or circuit breakers

Many older homes have fuses instead of circuit breakers. Fuses can be easily replaced but should be replaced with those of the same size.  Larger fuses (such as 20 vs. 15 amps) draw more power and, if used where they shouldn't be, can put added strain on wires meant for lower amperage.  That, in turn, can create a fire hazard.
Check your drop cords for safety that are hanging in the shop
Are the drop cords in your workshop or garage safe to use? Many times the ground prong on an extension cord gets broken off, thus creating an accident waiting to happen.  The round third prong on your cord is the single most important one for personal safety while using power tools.  Without the equipment ground intact, the metal casing on a faulty power tool can become energized with 120 volts on the metal frame which causes the risk of electrocution.
At Burton, we're dedicated to your family's safety and greater convenience.  Now or any time at all, please contact us if we can help you with any of your home electrician needs, including wiring safety inspections, service panel upgrades, surge protection, and more.
402-934-7003
Click here for answers to your questions or to schedule service now