This is a special month for Burton AC, Heating, Plumbing and More. We're celebrating our 30th anniversary in business. We've served Omaha and the surrounding communities for three decades. Maybe you've seen our billboards or heard the jingle – "If Your Plumbing's Hurtin' Just Call Burton." Perhaps you've made updates to your home, or maybe you've had an emergency situation with one or more of your home's systems, and our team was there to install, repair or replace what you needed.
However, it has been a journey to get to where we are today. We continue to evolve and adapt as we grow and build our company moving forward.
Burton's Beginnings.
Burton Plumbing was started in June 1989. Bette Midler's "Wind Beneath My Wings" topped the charts, and "Batman" starring Michael Keaton (arguably the best film in the Batman franchise) opened in cinemas. Burton Friesz founded the company with the focus on bathroom remodelling and plumbing for the entire home. I had a plumbing distribution business at the time, and Burton and I became friends over common business. We decided to join forces in July of 1994 and develop the service side of the plumbing business.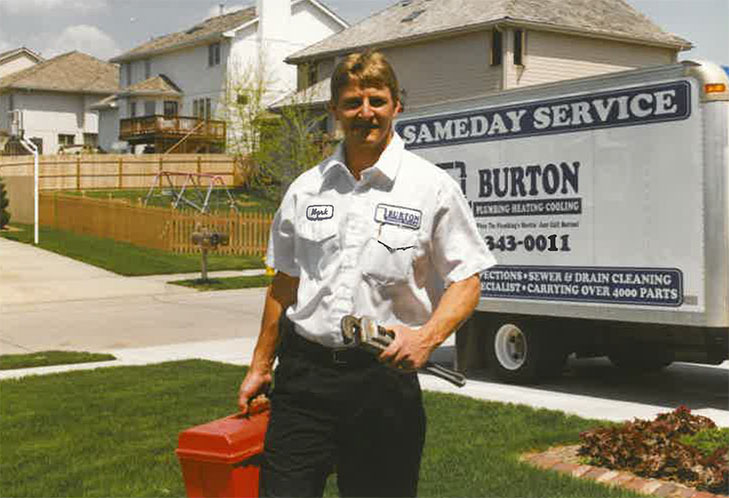 In the beginning, the company had a small office in Irvington, NE, with a one car garage and a whole lot of ambition. We became members of Contractors 2000 (now Nexstar Network) in February of 1996 as member #219. This is a best practices group specializing in building business through quality customer service. It was this membership that led us to become the first Flat Rate Service provider in the Omaha metro, and helped our company focus on service above all else.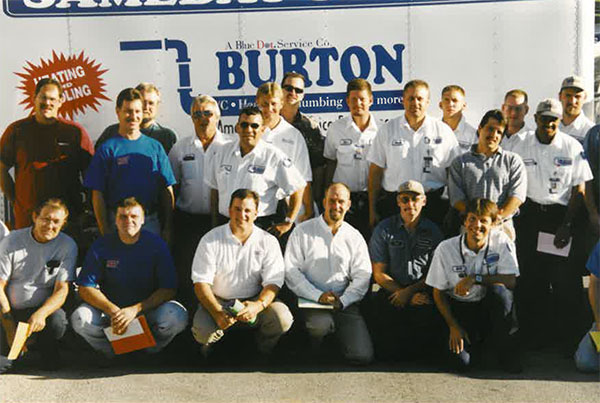 In 1997, we expanded from plumbing services to provide HVAC as well. In February of 1999, Burton Plumbing was sold. My friend and business partner, Burton Friesz resigned. We continued to grow and provide excellence service to Omaha. We moved our headquarters to accommodate our growth to 8115 H St in Omaha. In 2003, I purchased the company, and in 2011, we moved to our present location at 5010 F St.
Burton Today.
Our current headquarters are 25,000 square feet, which provides ample room for growth. We have a fleet of service vehicles, and each truck is equipped with hundreds of tools and parts, streamlining our services and getting our customers' homes back in working order as quickly as possible.
We currently service about 23,500 homes and businesses each year. Over 30 years, that adds up to over 700,000 service calls or projects! We've got an amazing group of managers, and each of them have built teams that do incredible work every day. We are proud to have the most 5-star ratings – and the most ratings PERIOD – in the entire Omaha metro area. We've also been voted Best of Omaha 14 years in a row, which is proof that every single person who works at Burton is doing a great job.
Burton Looks to the Future.
The best part about Burton AC, Heating, Plumbing and More is growing our team. I love to build the team up and watch our team build the business. Looking towards the future our demand is outpacing the workforce. I hope to continue to grow the company to meet all our customers' needs. We budget and plan continuously, looking for ways to become the employer of choice so we can hire the best in the industry. Without this we cannot provide 5 star service.
As president of Burton AC, Heating, Plumbing and More, I am grateful for the support and loyal business over the years. We're humbled by the fantastic reviews and ratings. I speak for everyone at Burton when I say I am excited for the future. Thank you, Omaha, for making our company what it is today.
Mark Evans
President, Burton AC, Heating, Plumbing and More