Remember when you first set out to enter the workforce and someone you relied on reminded you of the following:  You never get a second chance to make a first impression? Well, that same advice applies to much more than how you present yourself at a job interview.
Take, for example, how your home is perceived once you put it on the market.  There's no getting around it: they may not even step inside if the exterior is sufficiently unappealing.
So, in a world where even the smallest of details matter, take heed of these few tips on how to improve your home's curb appeal: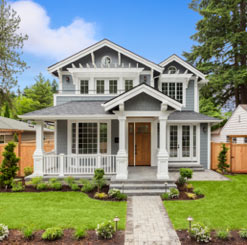 Clear the path. The pathway to your front door should be clear of any obstructions and wide enough so two people can walk shoulder-to-shoulder.  Cut back any overhanging branches or encroaching shrubs.
Light the way. Landscape lighting not only adds ambiance, it can deter would-be burglars. Consider adding inexpensive solar-powered LED lights that you can stick in the ground, and make sure that your front door light works.
Go bold. Add some interest to your home by painting your front door a bold or contrasting color, like crimson, royal blue, or sunny yellow. To make it stand out even more, use a high-gloss paint to add a reflective sheen.
Update hardware. Add a little style to your home with a new door handle and lock set, decorative house numbers, and a door knocker.
Mail call. From kitschy roadside novelties to fuss-free black boxes mounted alongside the front door, mailboxes are available in all shapes and sizes and offer just one more way to express yourself. Whatever you choose, just be sure it's standing or hanging straight, has a secure closure, and is free of dents or dings.
If you're getting ready to put your home up for sale, contact Burton today for a budget-friendly inspection of your home plumbing, heating, cooling, and electrical systems. We'll make sure they pass muster and not discourage prospects from taking a closer look. We also can correct any problems with your satisfaction guaranteed.