In and around Omaha, gas heating systems rule the roost. But that doesn't mean you won't occasionally bump into a home or neighborhood with electric baseboard heating systems, especially where no natural gas service is available.
Is electric baseboard heating a good investment for you? It can be. Take a few minutes now to check out these important benefits: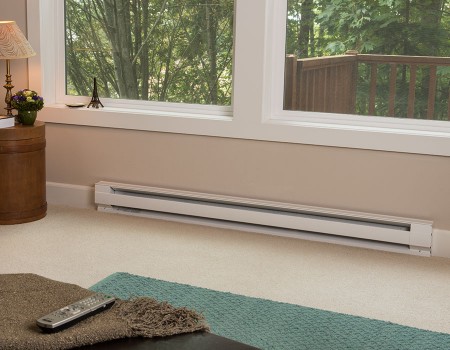 Flexible usage. Since there's no central furnace with electric baseboard heating systems, you can use them in three key ways for the ultimate in flexibility: to heat your whole house, to heat one or more rooms not reached by your central heating system, or to provide more heat in an unusually cold room.
Save money on your energy bills. Since each baseboard unit has its own thermostat, it's easy to cut your energy consumption with an electric baseboard heating vs. a whole-house central heating system. Once you convert to electric, you can supply occupied rooms with exactly right amount of comfort while minimizing or turning off the heat in other areas of your home. Just be sure that you don't subject any water pipes to freezing when lowering the heat.
They don't take up a lot of space. Unlike a forced air heating system, no ductwork is required to install an electric baseboard heating system. What's more, you can install them anywhere you like in any given room, even though you'll enjoy maximum heating efficiency by installing each unit near or under a window.
Safe operation. When it comes to home heating, safety is always a critical factor in the selection process, just as it should be. Well, if you're considering electric baseboard heating for your home, you'll be glad to know that most units comes with auto-safety thermal cutout, enabling the unit to shut itself off if and when it begins to overheat. Should that take place while you're away from home, it's also good to know that this same function will reactive the flow of heat once the unit returns to its normal temperature.
For more information or a free quote on an installed electric baseboard heating system for your home, contact Burton today.