When the term "home theater" first came into vogue, it pretty much meant just that: a small-scale version of a commercial cinema with its own separate room for the rich and well-to-do.
Well, a lot of home theaters have been built since then.  Some are still awe inspiring in concept and construction.  But most others don't require a separate room and not a great deal of equipment either.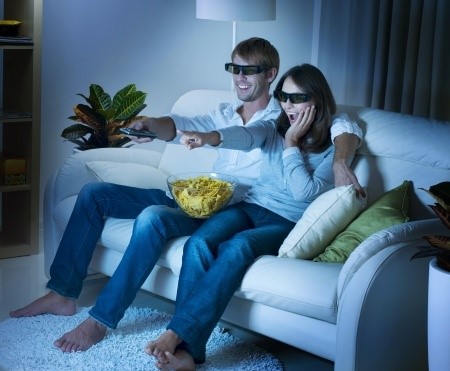 A home theater experience can be as simple and basic as a wide-screen TV combined with a DVD player, sound bar and stereo – or, a home theater receiver – and some kick-butt speakers. You probably have at least some of this equipment anyway, and with just a little imagination and some expert wiring, your entertainment viewing and listening will be rise to whole new heights.
Here are a few "must do's" for the ultimate home theater experience:
Ambient light. Ambient light can cause a glare on TV screens or screen surface reflection, so you'll need a way to completely blacken the room.
Carpeting vs. hard wood floors. Carpeted floors aid in the absorption of unwanted audio artifacts while hard floors are more reflective, thus resulting in annoying echoes and uneven bass.
Home Theater/AV Surround Sound Receiver. This is the heart of a home theater system and provides most, if not all, the inputs and outputs to connect each system component. The right receiver also simplifies operation by providing a single source for home theater operation.
Sound System Components. For best results, purchase all sound system components from the same manufacturer. Plus, always try to get speakers that were designed to be used together.
And then there's the electrical wiring itself –a specialty of the house here at Burton AC, Heating, Plumbing, Electrical & More. We'll review your options with you, help you plan the layout of your home theater, discuss how to best integrate system components, how to build in flexibility so you can enhance your system over time, and much more. We'll also develop a guaranteed upfront price quote so you know exactly what to expect. At Burton, we also guarantee your 100% satisfaction. Contact us today for more information on our home theater wiring service.